The "Universo 64" was a gag that appeared in episode 12, "Frollo Enters a Mexican Contest." It is clearly based on the Nintendo 64 gaming system, but with the name changed to "Universo 64" and the logo replaced with a picture of a spiral galaxy. It can be seen with a "Frollo Show" cartridge inserted in episode 12, and a single controller appears to be connected. It supposedly controls/runs the universe of The Frollo Show but seems to be nothing more than a one time joke and does not really contribute to the plot. It does, however, appear again briefly in episode 16, "Frollo Gets Flashed by a Gothic Lolita" as an easter egg. Upon stopping the video at the right time during Hitler's spin at 8:54, the image of the Universo 64 can be seen to the left, along with the following text: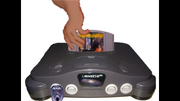 "Everything has an origin"
"Connect the dots"
"Connect the dots"
"Connect the dots"
"Connect the dots"
The image is the same as the previous one, though it lacks both the cartridge and the connected controller.
Ad blocker interference detected!
Wikia is a free-to-use site that makes money from advertising. We have a modified experience for viewers using ad blockers

Wikia is not accessible if you've made further modifications. Remove the custom ad blocker rule(s) and the page will load as expected.