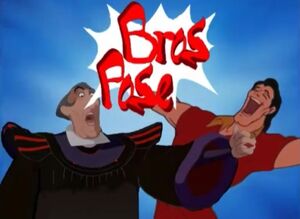 The Bros Pose is the signature memetic pose of The Frollo Show. The pose originated in Frollo Gets AIDS, where Frollo and Gaston pose to celebrate the purchase of the Magic Fire.
In the words of the creator, Chincherrinas, "It consists of two best buds, the one at the left doing a thumbs up, and the one at the right stretching arms in celebration. Its also customary that the one at the left sports dark colors, while the one at the right bright ones, specially red... still, there can be some exceptions to that ruru. The bros pose is usually used when said buds came up with a stupid solution, or for the hell of expressing companionship."
The Bros Pose is usually accompanied by the Item Get fanfare from Luigi's Mansion, although some situations exclude this detail. Also, static images of the pose traditionally use a flashy blue background. The Bros Pose is also traditionally put in the end of every Leet Fighters episode, mainly relating to a character or characters.
(For fanmade Bros Poses, please visit the Fan Bros Pose Gallery)
In Smash Bros Lawl, Aya's third victory pose involves her preforming the Bro Pose with Ogre before teleporting away.
Ad blocker interference detected!
Wikia is a free-to-use site that makes money from advertising. We have a modified experience for viewers using ad blockers

Wikia is not accessible if you've made further modifications. Remove the custom ad blocker rule(s) and the page will load as expected.