Since the ending of Frollo Gets Flashed by a Gothic Lolita, every episode would end with a character or celebrity saying, "The Frollo Show" (or 'The Floor Show') with a drawing of that particular character next to the show's logo. There's a different character each time. The audio sources are usually from fans who audio-recorded their encounter with that celebrity or miscellaneous sources of TFS characters' voice actors saying, "The Floor Show" from outside of their first origin.
Frollo says "The Floor Show."
Intro: Lemongrab says, "It's time for The Floor Show."
End: Marco Antonio Regil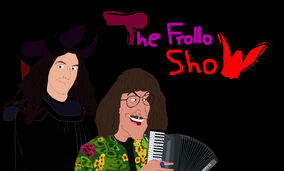 Part 2 (Frollo Story) Edit
Intro: (none)
End: "Weird Al" Yankovic (cosplaying as Frollo) with Frollo laughing and dressed up as Weird Al's classic 80's look.
Part 3 (The PITy Story) Edit
Intro: (none)
End: James Rolfe (aka Angry Video Game Nerd)